Last week I took a trip down memory lane into my digital past at the
Barbican
. All the more poignant since it is striking to think that I am part of the last generation to know what it was like to grow up without the internet or the mobile phone. I'm sure for many, it was probably the first time they had used or even seen the many 'digital artifacts' on display, such as a Game Boy, Speak & Spell, Netscape browser and OS Windows 3.1. I suppose when it comes to technology, I cannot hide my age well!
The #DigitalRevolution exhibition is fascinating, rich in experience and offers much to take in and contemplate. Not knowing in advance how long I wanted to dwell and how much I wanted to see, I visited during the final session of the day (18:30) and I must admit - an hour and a half felt rushed, so I could certainly see myself visiting the exhibition again.
"The exhibition brings together artists, designers, film-makers, musicians and game developers, who have explored the creative potential that digital technology can offer and whose work inspires and engages us."
Curated into three parts: Part 1 invites you to follow a journey from the 1970s to the present day, introducing key digital themes such as community, collaboration, storytelling, interactivity, and code. I could easily have spent all of my time here to make sure I read every explanation and interacted with every installation, but I was ushered to definitely not miss Part 3 -
Assemblance,
Umbrellium
's specially-commissioned three dimensional interactive light-structure.
Part 2,
Our Digital Futures
, showcases recent examples of independent video game development. If I had more time, I would have taken the opportunity in particular to play
Papers, Please,
the BAFTA award winner in 2014 for Game Strategy and Simulation. The game is a dystopian document thriller raising various moral and emotional choices where the player takes on the role of a border control immigration inspector, determining the outcome of lives which can in turn affect the outcome of the player's own virtual life.
© Wired UK
Part 3 is touted at the main draw - a room in which you can (within quickly realised limits) manipulate and interact with lasers/lights - making shapes, pushing them towards you and each other. Despite these limitations, the experience takes hold and you quickly lose track of time. As I looked at all of us in a pitch black room, it made me stop and think about how much we all want to interact with, and understand, the digital world - perhaps at times at the expense of the natural world. Beyond the fun of it all, we're invited to consider whether there's an increasingly arbitrary distinction between the 'physical' and 'virtual'.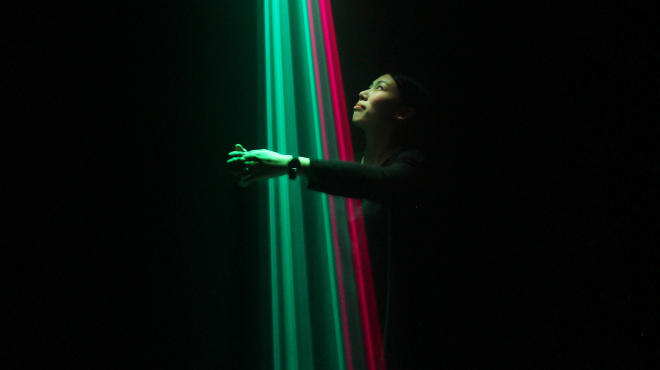 © Wired UK
To completely encapsulate the breadth of the 'Digital Revolution' was undoubtedly ambitious and there were a few moments where the exhibition lost its way down, for me, interesting yet slightly bizarre paths - the most high profile example being Pyramidi, a collaborative piece between Will.I.Am and sound artist Yuri Suzukiwith - a six-foot floating 3D head of Will dressed as an Egyptian Pharaoh. Regardless, the overall experience fascinates you throughout - whether it be absorbing the history of how far we have technologically advanced in the previous few decades or swinging your hands up in the air to bring to life virtual wings. It makes me glad I kept the very first iPod, who knows, maybe it will be in a museum one day.